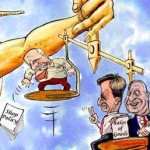 In Resch v. Canadian Tire et al., a 15 year old boy was seriously injured in a bicycle accident. He sued the manufacturer and the vendor of the bicycle. In an interesting ruling, the trial judge, Superior Court Justice Nancy Spies, held that the Sale of Goods Act did not apply to the case because the boy was not the one who had purchased the bicycle and did not, therefore, qualify as a "buyer" under the Act.
Justice Spies' reasons touched on a number of issues that arise in the "no man's land" where negligence law meets the Sale of Goods Act. For instance, Her Honour held that in claims for breach of implied warranty under s. 15 of the Sale of Goods Act, it is possible for the seller to argue for an apportionment of fault as between him and the buyer. That apportionment might be something quite different from an apportionment of fault in a tort claim, made under the Negligence Act. It is quite possible that both types of apportionment might have to be made in a single case, where claims have been advanced in both negligence and breach of warranty.
However, while Justice Spies ruled that it was open to a defendant seller to seek apportionment in an appropriate case, the issue did not arise here, because the Sale of Goods Act did not apply.
The bicycle in question had been purchased from a Canadian Tire franchisee by the stepfather of the injured boy. He paid with his Mastercard. So, there was no doubt that he met the statutory definition of "buyer", but that did not advance the plaintiffs' case, because they wanted to argue that the seller had breached warranties of merchantability or fitness of purpose owed to the boy, as he was the one who had been injured.
So, the plaintiffs argued that the boy had been a "co-buyer". They contended that there had been an arrangement for him to contribute, from his savings, to the cost of the bike. Justice Spies reviewed the evidence and found that it did not support such an inference.
As a result of the finding that the injured boy was not a "buyer", the court concluded that the Sale of Goods Act did not apply to the case.
We have been advised by persons familiar with the case, that the plaintiffs also pursued a case against the seller in tort. Hence, Justice Spies findings with respect to the application of the Sale of Goods Act were not entirely dispositive of the claim against the vendor. We understand that a small amount of tort liability was ultimately imposed (by a jury) on the retailer.