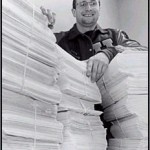 Air Canada et al. v. Westjet Airlines Ltd. et al. is evidently "the largest case of corporate espionage ever seen in Canada". It will undoubtedly spawn many rulings as it proceeds through the courts and today's is an interesting one.
Air Canada has sued Westjet for damages of more than $200 million. As one might expect in a case of that size, documentary production is a significant issue. Three weeks of discoveries are scheduled for June, 2006, but the parties are still fighting over what documents have to be produced and, more importantly, the method by which the parties have assembled their productions. This decision of Mr. Justice Ian Nordheimer addresses some of the issues of electronic production of documents that will probably arise more and more often in future.
In this case, Air Canada wanted to use computers to search electronically through its records, using certain "key words", and then to produce to Westjet the documents so identified. It would conduct no further review, other than a manual search of less than 5% of the documents, to ensure that its electronic search was working properly. Westjet was dissatisfied with this approach and asked Justice Nordheimer to order Air Canada to search its records manually as well. It pointed out that some search terms could have different meanings, depending on context. (The word "capacity" was given as an example.)
In the motion before Nordheimer J., Air Canada wanted to be protected by the court against the possibility that it might shoot itself in the foot by producing documents that no human had reviewed. It asked the court to declare that if privileged documents were inadvertently produced, that would not be considered a waiver of privilege. And it also sought the court's assurance, that production of a document would not constitute an admission that the document was relevant.
To the date of the motion, Air Canada had produced only about 1,100 documents. Westjet had produced approximately 40,000. Air Canada was willing to produce additional documents (some 10,000), but wanted to avoid the time and expense of manual review of the documents. It wanted to rely only on its electronic search (with the manual search of 5% of the results, as a check on the methodology) but wanted the protection of the court, as described above.
Mr. Justice Nordheimer refused Air Canada's motion. He added that "in the circumstances of this case, I do not see how that detailed review could properly be accomplished other than manually".
Justice Nordheimer went on to observe that he was "unmoved" by the submission that a manual search of documents by Air Canada would be time consuming and expensive:
Air Canada instigated this proceeding and chose to cast its claim in a certain manner that made the documents, that Air Canada must now produce, relevant.  Air Canada has tried to avoid the situation in which it now finds itself first through an unsuccessful motion in May 2005 to bifurcate the proceeding and then through its unsuccessful opposition to a motion in December 2005 requiring it to provide a further and better affidavit of documents. To the extent that there has been delay in this proceeding, therefore, it has not been within the sole purview of the defendants. At the same time, and not uncommonly for large commercial litigation, some amount of delay is inherent in the proceeding. It does not seem to me to lie with Air Canada to institute what it says is the largest corporate espionage case ever seen in Canada, couple it with a claim in the order of $200 million and then complain that the production process is going to take more than the usual amount of time and cost more than the usual amount of money.
The sobering result for litigants (especially commercial ones), is that while computers can now be used to store massive amounts of information with little effort, there is not yet any substitute for hands, eyes and brains (all being charged by the hour) in deciding what is to be produced to opposing parties.